Hint Health is thrilled to announce that AeroDPC, an all-in-one EMR platform designed for DPC clinics, is joining the Hint family! Acquiring AeroDPC is part of Hint's strategy to simplify the startup experience for new Direct Primary Care (DPC) practices by building a comprehensive, end-to-end solution that contains everything a clinician needs to launch in one innovative platform.
"This acquisition will better enable Hint to fulfill our mission by providing practices who are getting started in Direct Primary Care with a simple, affordable, all-in-one solution designed specifically for the DPC community," said Hint Health CEO, Zak Holdsworth. "It will also serve as a blueprint for how we can further enhance new and existing partner integrations within the Hint ecosystem, which is a strategic priority for Hint."
The entire AeroDPC team joins Hint Health including brothers, Dr. Brad Brown, Chief Medical Officer and Kyle Brown, Chief Technology Officer who co-founded the company as well as Chief Operating Officer, Dani Brown, and Customer Success Manager, Ben Fetter. AeroDPC delivers excellence in customer service and will continue to do so as part of Hint Health. There is an incredible alignment of values with both companies listening to and incorporating customer feedback swiftly, so the customer experience will only be enhanced as a result.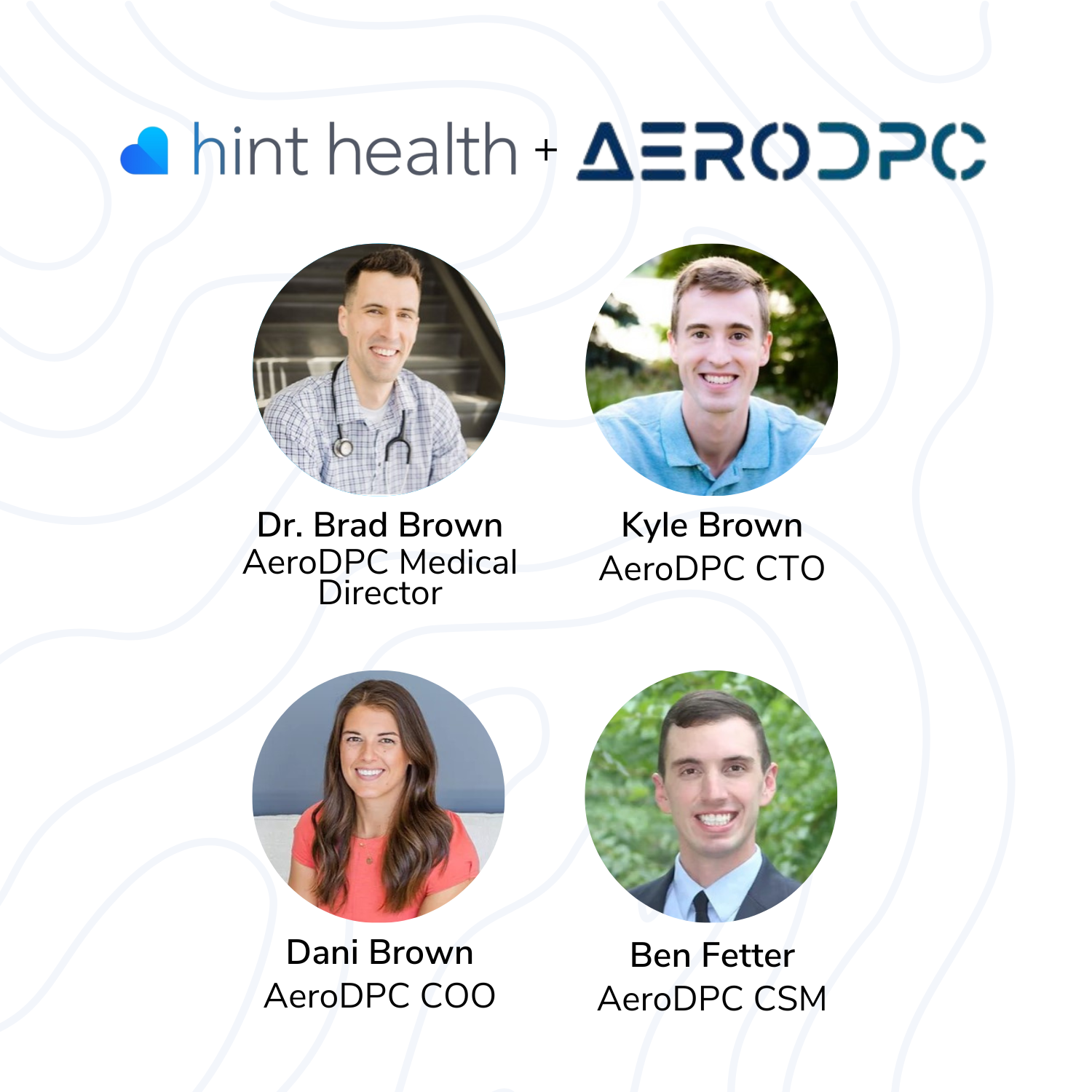 "As a DPC physician myself, bringing Hint Health and AeroDPC together is extremely exciting and powerful for DPC as a whole," says Dr. Brad. "DPC is medicine how it used to be, just doctor and patient. Having an all-in-one solution allows doctors to take their eyes off the computer screen and focus solely on their patients. With this acquisition, doctors and patients alike will further benefit from the streamlined products, enabling us to better serve the DPC community."
The AeroDPC Story
AeroDPC is a software company that supports everything a DPC doctor needs in one innovative platform. From charting to labs, AeroDPC's fully integrated system has been designed to solve the unique challenges of a DPC practice. AeroDPC's mission is to empower physicians by streamlining the rest.
Dr. Brad saw an opportunity to improve note taking functionality within an EMR while he was in medical school doing rotations with a DPC doctor. He soon after got his brother, a software engineer onboard to develop a new, revolutionary product, AeroDPC. Dr. Brad lives and breathes DPC as he started his practice while still in residency and co-founded AeroDPC with his brother during that time. With Dr. Brad as the first user of the beta version, the company then began enrolling DPC providers only 18 months ago. The company has since experienced rapid growth and an overwhelmingly positive response while continuing to provide a top-notch customer experience.
"We've created something that is really changing the market as well as providing a service that can help doctors change the world for each one of their patients individually."

- Dr. Brad Brown, AeroDPC
What's to Come: An End-to-End Solution to Accelerate DPC
Nearly from day one, Hint Health founders Zak Holdsworth and Graham Melcher envisioned an end-to-end solution for Direct Primary Care practices. However, at the time, the priority from a product perspective was to support the immediate needs of their clients who were scaling fast and needed support with enrollment, eligibility, billing and seamless interoperability. Broadening their product footprint would have to wait, but they did realize that in order to fulfill their mission of powering direct care and making it the new standard, an EMR and practice management solution would eventually need to be a part of their technology stack. So when they met the AeroDPC team initially to talk about a potential partnership, given the shared vision of the founders and the comprehensiveness of the AeroDPC platform the conversations quickly turned towards acquisition.
"From a practice solution perspective, AeroDPC is a fully featured software that pairs brilliantly with Hint," explains Hint Health Co-founder and CTO, Graham Melcher. "On the technical side, Kyle [Brown] leveraged his experience working at Amazon to build AeroDPC using state of the art practices (like microservices and serverless Lambda's) that enables rapid feature development as well as limitless scaling."
Dr. Brad describes coming into the Hint Health umbrella as "a no-brainer," the two companies are mission-aligned and want to see the same transformational outcomes take place in the U.S. healthcare system. Joining forces will propel the ease of adoption for doctors transitioning to a DPC care model with less steps to take in the process.
Next year, a new Hint product will be launched alongside Hint Core combining the best features of AeroDPC and Hint Core in one place, including:
Membership Management
Billing
EMR
Business management
Patient communication
Lab Integrations
ePrescribe
& MORE!
In the meantime, AeroDPC will continue to operate as an independent subsidiary of Hint Health, serving DPC practices with its innovative software. Hint Health customers will have full autonomy with respect to their preferred EMR with no disruption to existing integrations. Hint is dedicated to enhancing partnerships and integrations, and will continue to invest in offering seamless integrations with leading EMR providers and technology partnerships throughout the Hint ecosystem.
See Axios article, Hint Health acquires AeroDPC on the acquisition and the full press release here.
Answers for Some Questions You May Have
Have a question? See if the FAQs below answer it, and if not, don't hesitate to reach out to the Hint team at support@hint.com.
Q: What does this mean for Hint customers and their current integrations short-term & long-term?
A: The acquisition will have no effect on their business or the way that they work with Hint. Customers will continue to enjoy the same great products and support from the Hint team in addition to continued use of Hint Core with your preferred EMR - which is integral to your practice. Hint will continue to enhance partnerships and integrations throughout the Hint ecosystem with improvements in the user experience across the board.
Q: When can Hint customers begin using AeroDPC?
A: AeroDPC is currently on the market for Direct Primary Care practices that would like to use the practice management and EMR platform. It is a standalone product that currently has no direct integration with Hint. To learn more about AeroDPC or request a demo, visit www.aerodpc.com.
Q: When will the integration between Hint and AeroDPC happen?
A: In 2023, a new Hint product will be launched alongside Hint Core combining the best features of AeroDPC and Hint Core in one place, including membership management, billing, EMR, business management, patient communications, and more. Specific timing and details to come later.
Q: Do Hint customers need to switch to AeroDPC?
A: No, Hint Core can be used with or without AeroDPC. Customers will always have the choice to use Hint Core with the EMR of their choice.
Q: How does this impact the vision and support of Hint Core moving forward?
A: Hint will continue to provide the same Hint Core service as a stand alone product and is committed to furthering enhancements with existing and future partners as they always have. This acquisition only deepens their commitment to the Hint vision of powering direct care, and making it the new standard.