Improving employee health outcomes has become more difficult in the current health system, with increased and targeted spending rarely producing the desired outcomes. There's no better time for employers to take matters into their own hands and invest in Direct Primary Care (DPC) as a benefit for their employees.
Sixty percent of all Americans suffer from at least one chronic illness, with 40% suffering from two or more. When patients have better access to primary care, they are less likely to go to urgent cares, specialists, and emergency rooms, and chronic conditions are more successfully managed.
Because DPCs see about 75% fewer patients than traditional PCPs, they have the time to address root causes of health issues, and are available when patients need them. The strong relationship that patients have with their primary care clinician, makes it more likely for patients to check-in regularly rather than delaying seeking care to the point when conditions become severe.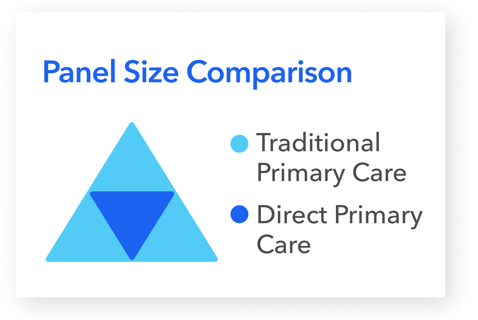 This dedicated resource that patients have via the benefit of DPC provides the reassurance of care when something goes wrong and does so at a reduced cost. By choosing DPC, you make a direct investment into your employee's health.
For more information, download our white paper, The Domino Effect of Investing in Primary Care: What Employers Need to Know About DPC.