Just over 47% of Americans are insured through their Employers, which means a large, virtually untapped market for DPC practices (Charles Gaba, ACASignups.net). And as healthcare costs continue to rise, Employers are looking for new benefit options that can bring relief.

If working with Employers is the next step for your DPC practice, read on to find some tips for engaging, implementing, and managing Employer contracts.


Videos Related to this Post:
The First Step: Engaging Employers
One of the fastest ways to grow your membership is to get Employers to see that DPC not only lowers costs but also leads to better overall health for their employees. But what are some best practices for engaging with Employers and getting the ball rolling?


#1 Find an insurance broker or benefits advisor who is interested in Direct Primary Care.
Just as a fraction of medical professionals is leaving traditional healthcare to find greater job satisfaction in DPC, so are some benefits brokers. However, the vast majority of brokers may not be familiar with DPC, so it's up to you to educate them. Nurture the relationship by offering to go to business meetings with them, to speak at their client events, and to give them referrals for each Employer that comes to you through them.


#2 Network & Connect with B2B Service Providers
Take advantage of any avenues that allow you to network, like social media, your local Chamber of Commerce, business and trade associations, or conferences. Again, creating relationships opens the door for conversation about how DPC is different from traditional healthcare providers.


Consider meeting with local CPAs or lawyers-- those who work with Employers on a daily basis. If they recognize that DPC can help their clients, they may refer employers directly to you.
#3 Avoid Going Through HR
Unless an executive above HR has suggested the meeting, this is a "dead end." HR receives no benefit if a DPC plan is adopted and succeeds; however, "if it falls on its face, everyone will point the finger at HR" (Dr. Chris Larson,
Employers & DPC: How-To Guide
).
#4 Network with Other DPCs or Go Virtual
Larger Employers will want a plan that includes multiple doctors since their company may span multiple cities or states. So, as more and more large Employers begin to see DPC as a valid option, "DPC doctors need to network together" to serve them (Larson). It's also likely that large Employers will want an option for their remote employees. Telemedicine and video conferencing tools can fill this need.
Note:
Hint's DPC Networks feature makes it easy for DPCs to build networks to serve larger employers, and for practices to join existing networks.
Learn more here
.
#5 Prospect on Your Own
Another option is to search for Employers through online databases. Go to miEdge at
https://www.miedge.biz/
where you can query a database to find self-funded Employers and then parse data based on geography and size. Then, reach out to those Employers and tell them about how your DPC practice can change their bottom line.
Pitching DPC to Employers
Once you're face-to-face with an Employer, it's time to transform how they think about employer health coverage by distinguishing the difference between FFS and DPC models.
Saves Money. Of the largest corporate expenses, healthcare benefit programs come second only to payroll, and these costs will only increase. According to the Affordable Care Act, businesses with greater than 50 employees must offer the minimum essential coverage or better. Moreover, those with 1-100 employees are now "community-rated," which means that their costs have increased based on demographics and averages in their locale.

This means that a company with between 50-100 employees is highly incentivized to save money and make a change. Plus, some DPCs have reported savings of $270 per employee per month versus FFS (David Craig, Winning DPC Employer Contracts with Better Medical Communication).
Incentivizes Health. Instead of promoting a "sick plan," one where sickness is managed through reactive care, DPC chooses to finance health by being proactive. This means healthier employees at a lower cost. When an Employer chooses to switch to DPC, they are incentivized to stay healthy in order to reduce health claims, thereby saving the company money. With FFS, the cost remains the same no matter how healthy or sick the employees become.
Unrivaled Patient Care. DPC members rave about the doctor-patient relationship, frequent communication from the practice staff, and 24/7 access -- just three of the many facets of patient experience that FFS seems to be missing. But Employers will need more than words to convince them. Provide real-life testimonials, quick anecdotes, and even survey data from your own satisfied members to prove the value of Direct Primary Care.
Knowing Employers' Concerns Ahead of Time
Since Direct Primary Care isn't as well-known of a model, Employers may still have concerns. Knowing and understanding their fears ahead of time is crucial to presenting the case for DPC.
They may be focused on acquiring the best talent, so they want to offer more widely-accepted healthcare benefits. In this case, play up DPC's concierge services, money-savings, and 24-7 access.
They may want to minimize disruptions and employee complaints that their favorite doctor isn't offered in the plan. In this case, talk to the Employer about their options in using DPC as an add-on while their employees adjust to the change.
Employers may be concerned about where their employees will go when treatment falls outside of a DPC physician's realm of services. Take the time to show them that they can wrap in a plan for specialists and hospitalizations. Work openly and transparently with the Employer, explaining what you do and don't offer.
Managing Employer Contracts
Undoubtedly, there are some challenges in proving the value of Direct Primary Care, especially when it comes to larger Employers. They may likely expect you to compete with traditional healthcare insurance companies to prove DPC's validity and effectiveness. To do so, try implementing the following tips for managing Employer contracts so that they sign back up with your DPC year after year.
Using Analytics to Validate DPC
Primary care physicians handle a wide-variety of health issues and often interact with a broad cross-section of patients through an Employer contract. This leads to a substantial amount of measurable data. Use this to provide clear feedback to Employers, on a monthly or quarterly basis, that validates the DPC model. When you've spent enough time treating these employees, look at metrics like a decrease in hospitalizations, less specialty care, and lower prescription costs to show Employers their Return on Investment. This evidence will undoubtedly make a difference when it comes time to re-enroll.
Using Better Medical Communication to Connect with Employers
Self-funded Employers align with DPC physicians on the "triple aim" of medical care: satisfaction, quality, and cost. According to David Craig, Medical Director for Spruce, better medical communication ensures that a DPC practice will deliver on all three.
To increase patient
satisfaction
, DPC practices should adapt to patient preferences for communication through text, mobile apps, and video. Telemedicine, increased access on nights and weekends, and faster response times make a patient feel valued and cared for when FFS doors are closed and traditional doctors can't be reached.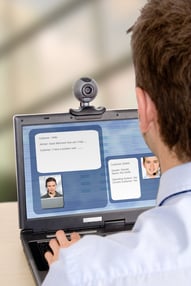 Better communication also equals
better quality
of care and health. When a patient can reach his or her doctor, talk through the current issue, and receive medical advice and care more readily, patients can inevitably get better faster.
More frequent, thorough communication also reduces the need for testing, treatment, ER trips, hospitalization, specialist visits. This means
lower overall healthcare costs
. Dr. Jeremy Smith, after using MyMD Connect, a medical communications platform with a patient app says,"We can keep people out of the ER by being available when they need us [...], with the information that they need to know."
Increased Membership Through the Employer Market
DPC practices are tapping into the Employer market, expanding access to quality care and improving their business finances at the same. Hint partners with forward-thinking benefits advisors and established DPCs to help practices access this market. Visit
hint.com/dpc-networks
to learn more about becoming a DPC affiliate or building your own DPC network.