We're excited to announce a set of improvements to our online signup form as part of an ongoing initiative to enhance the membership enrollment process. These changes will add more customization to your online signup form and further add to a user-friendly enrollment experience for your patients.
In addition to the new online signup functionality, we released some employer enhancements to continue to support your growing employer contracts.
Online Signup Enhancements
Lead Capture / Abandonment Tracking for Online Signup
Ever wonder who started enrolling in your practice but never completed? You can now keep track of these using the "Signup Attempts" report, which will track the name and contact information of each attempted signup, as well as whether it was successful. This report can be exported to Excel (CSV format) so that it can be imported into another system like a CRM or marketing automation tool as necessary.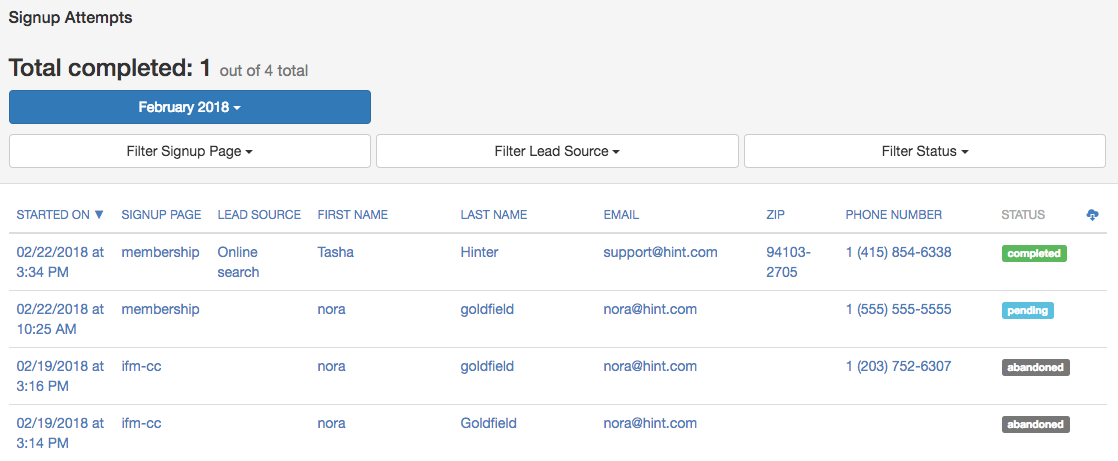 Optional Payment Source Collection
By default, Hint requires all patients to add a payment source when submitting their information on online signup. You now have the ability to make this field optional or disabled it from being shown. Learn how to configure this setting on your signup form here.
Limit Signup by Zip Code
We now allow you to restrict online enrollment to specific zip codes in order to prevent enrollment outside of your local area. Any enrollment that gets blocked will show up in your "Signup Attempt" report as "Ineligible", along with their contact information so that you can follow up with them as appropriate.
Employer Enhancements
Autopay for Employers
We've released "Autopay" for employers. Now you or your employer can enable "Autopay" which will automatically process payment for each invoice on its due date. This setting can be enabled or disabled system-wide and then overridden on each employer if necessary. Learn how to enable autopay for you employers here.
Four-Tier Pricing for Employers
We now support a new pricing scheme for employers and group health plans called "Four-Tier Pricing." This is a model for pricing employees and their dependents into one of four tiers: Employee, Employee + Spouse, Employee + Child, and Family and assigning a single rate to each tier. This is typically not used for retail memberships as you're not able to price differently based on age or number of children. To learn more about configuring four-tier pricing for your employers, click here.