For Direct Primary Care (DPC) organizations, working with employers can be a great way to accelerate your membership growth. Rather than growing your panel one patient at a time, you can acquire large volumes of members by contracting directly with employers. In fact, DPCs that work with employers average 3 times as many members as practices with only retail memberships (Hint Data 2019).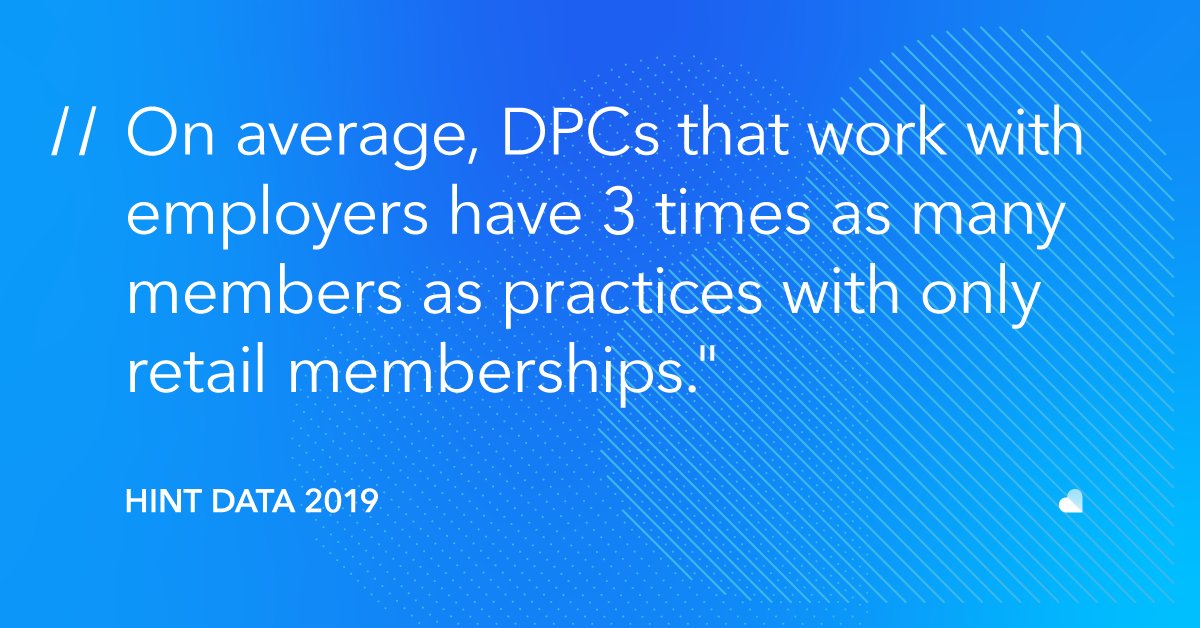 Contracting directly with employers can also be more complex than you'd initially think. Running a DPC is like running a primary care health plan for each employer, so be prepared to face some challenges. Without the right tools, managing eligibility, enrollment, membership plans, billing, and internal reporting can be taxing on staff, fraught with error, and expensive.
Here's a breakdown of some of the complexity you should expect when managing contracts with employers:
#1 Eligibility
Keeping track of eligibility changes can be among the most manual, time-consuming, and frustrating processes. But it's also one of
the most important. Mid and large-sized employers typically experience high rates of employee turnover, which means that your patient lists can get outdated pretty quickly. In fact, the average employer submits around 50 membership changes each month, including new enrollments, terminations, and updates to existing memberships (Hint Data 2019).
"Eligibility was easily the crappiest part of our world," said the founder of a large DPC clinic group before using HintOS.
Trying to keep up with eligibility changes is oftentimes compounded by employers or TPAs who send unusable or mis-formatted eligibility data in the form of employee census files. It's not uncommon for these files to have missing values, scrambled columns, or unconventional formats, like EDI 834, which are not easily accessible. Until recently, back office staff would have to spend countless hours downloading, opening, reformatting, and correcting these complex files. Hint's product development team worked with the largest and most successful DPC groups in the country to solve this challenge so that staff time can be put to better use.
The new Eligibility AutoSync™ feature of HintOS ingests census files from TPAs and employers and populates employee and dependent demographics. AutoSync intelligently identifies bad data in the source files so you can correct it. Files are processed every night, which means your patient records are reliable.
"We're coming up on three or four hundred changes a week now, and we use HintOS to keep our membership demographics updated," says Derrick Palmer, Chief Operating Officer of MyMD Connect.
#2 Enrollment
Getting significant numbers of eligible employees to sign up for a DPC membership requires consistent and compelling marketing. You also need to rely on HR personnel to inform your practice whenever new employees (or dependents) want to register.
To ensure that new patients have a consistently positive first experience with your practice, you'll need a system that provides custom enrollment forms per employer and automatically notifies physicians and locations of new enrollments. Automating as much of the enrollment process as possible will enable you to provide a consistent patient experience that feels personal and responsive, even as your practice grows.
HintOS increases employee enrollment by automatically inviting eligible employees to enroll and select a provider. And employers can sign into HintOS for a self-service way to add new employees and dependents.
#3 Membership
Operating a flourishing DPC practice is a lot like running a health plan. And like a health plan, the matrix of memberships quickly expands. DPCs that work with more than one employer offer a total of 13 membership plans on average (Hint Data 2019). You may start with one retail and one employer membership plan. Then you may negotiate a different rate with another employer, and another, and another. Suddenly, you have to create invoices across multiple rate schemes. It can be daunting without the right supporting technology.
HintOS enrolls retail and sponsored members in the appropriate membership plan and bills them accordingly. This means when you operate a DPC clinic, you won't need to constantly track that matrix of membership prices. Clinics simply enroll patients in the right plan, and HintOS handles all the complexity behind the scenes.
#4 Billing
Employers expect you expect invoices to be accurate and punctual, even though some of their accounting departments have longer delays for remitting payments because of internal bureaucracy. Errors or delays in your invoicing process can cause costly delays in payment and erode the employer's trust in your business.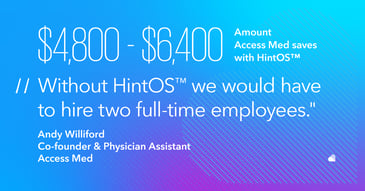 Having a transparent, accurate, and automated billing system is key to creating good relationships with employers and to your practice's financial health. HintOS offers an employer portal to make it easy for employers to view and pay their outstanding invoices and to set up and manage auto-pay. Invoices are automatically calculated from membership records each month, and reminder emails keep employers in the loop about their upcoming bills.

AccessMed owner, Andy Williford, estimates that without HintOS, AccessMed would need to hire two additional full-time employees at $15-$20 per hour—a monthly cost of $4,800-$6,400.
#5 Internal Operations & Reporting
Having proof that your practice is delivering on the promised value you claimed is crucial to retaining existing contracts and winning larger employer deals. Larger employers spend more on healthcare, and they require more information and data to prove the value your practice is delivering to their employees and their bottom line.
At a minimum, you'll want to show employers the return they're getting from the employee membership fees they pay you. Creating these utilization reports can be time consuming and involve data from multiple sources like billing records, clinic utilization trends, and healthcare outcomes.
"ROI is based on a comparison to what the employer's costs would have been in the traditional healthcare system. For instance, we may order a panel of labs costing $30 which would have cost a couple hundred dollars in the traditional world," Palmer explained. "And we show that data to the employer, basically saying, 'that's what you have saved by using your direct primary care physician'. We also report metrics like engagement and which employees are the highest utilizers."
HintOS delivers insights through financial and membership reporting. When combined with engagement data from your EMR, it's easy to deliver ROI reports to your employers. HintOS, the Elation EMR, and the data analysis tool KPI Ninja together have the capability to deliver and synthesize ROI data.
HintOS simplifies and automates direct-to-employer contracting.
Yes, serving employers is more complex than meets the eye, but it doesn't have to be hard. HintOS is purpose-built to make direct-to-employer contracting doable for any DPC.
Stay on top of eligibility and enrollment changes with Eligibility AutoSync™.
Manage operational complexity and your array of memberships in a platform that serves as the single source of truth.
Give employers an easy way to stay updated and pay invoices on time with the HintOS employer portal and auto-pay feature.
Reinforce the value you're delivering with membership and financial reporting, and integrate with tools like Elation EMR & KPI Ninja.
Working with employers can put your practice on the fast track to financial success and sustainability as long as you're prepared and equipped to handle the complexities of these new relationships. Fortunately, we can help you with the hard parts so you can focus on delivering the best possible care and patient experience.